June Employee Of The Month – Heather Cooper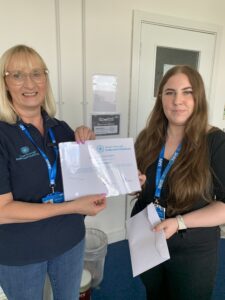 Heather is a PCN Back Office Administrator. Heather has received this award for:
Going above and beyond. Anything you ask for her she takes as a challenge and thrives. Nothing is to much trouble and when it comes to searches, she amazes everyone with her knowledge and helpfulness. Not to mention the amazing work she has carried out with the Covid Spring Booster work.
Heather pictured receiving her certificate with Helen Kerins, Chief Officer.